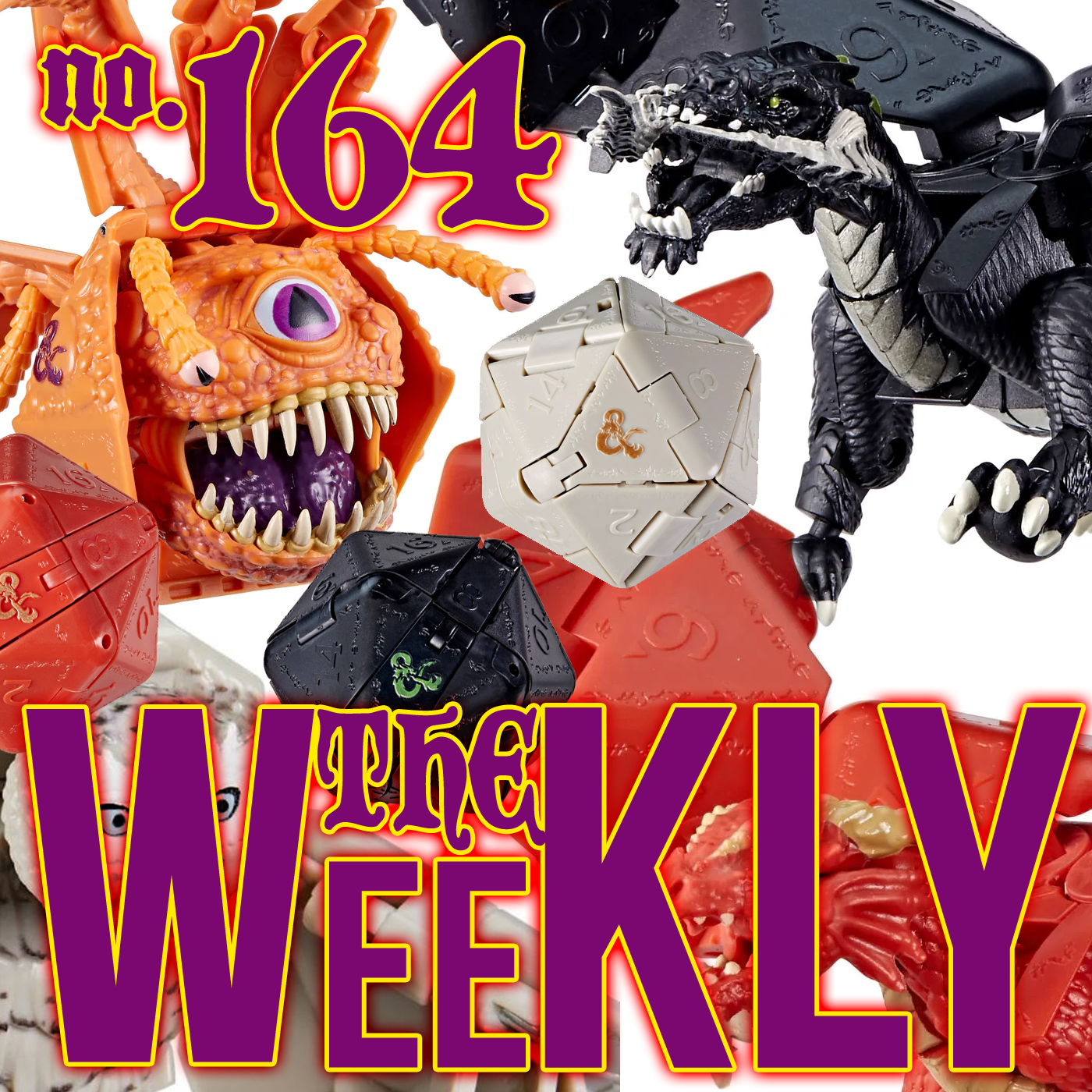 Juan Hidalgo at Vallejo may have sabotaged the release of Army Painter Speedpaint by "inventing" a reactivation issue. Content he made about alternatives to Games Workshop's Contrast Paints inaccurately demonstrates SpeedPaint and another alternative from Green Stuff World. This just happened to coincide with his work on Vallleojo's own version of the single coat paint. If true, this is a dirty trick and should be called out. It needs to be very clear when content creators are using their audience and reach to promote a product for profit while falsely denigrating the competition.
Along with the first wave of official D&D action figures from the upcoming movie "Thieves Among Us", Hasbro has just announced Dicelings. These are oversized D20s with unique rune, feather, or scale theming. They change into one of four iconic monsters; a Beholder, an Owlbear, a Black Dragon, or a classic Red Dragon. Dicelings will retail for $13.99 and due to arrive March 1, 2023. The 50th anniversary thing is shaping up to be quite a thing.
The Mantic Companion App Launches for Kings of War, Deadzone and Firefight. It will include an Army List Builder, Mathhammer (a damage output vs. points cost calculator), Living Rulesets, a Tournament Companion, Game Hub, Club Finder and Worldwide Rankings. Kyle from Master Crafted even mentioned the S-word, STLs. This is available to everyone for FREE until January 31st 2023. Using a special code you will have access to the full features of the Companion app for three months.
This past weekend, Sportscenter on ESPN ran a four-minute-long segment on Dungeons & Dragons in the Cleveland Browns. The gaming group is called the Heathens consisting of Johnny Stanton IV, former fullback on the Browns, as DM, and Myles Garrett and Wyatt Teller, current Browns players. They struck up a conversation about D&D when one of the players wore a Stranger Things t-shirt in the locker room. All this tabletop distraction may help to explain why Cleveland continues to struggle in the AFC North.
#vallejo #hasbro #mantic #dnd #espn
To get your free months of the Mantic Comapanion App type the following code when registering:
NLJAN31
This will give you free access to all of the Companion until 31st January 2023
Sportscenter Clip Part One:
https://twitter.com/johnnystantoniv/status/1586856723058372609?s=20&t=SSTO0IZKCeAJgC_k_SKGOQ
Part Two:
https://twitter.com/johnnystantoniv/status/1586857558651699201?s=20&t=SSTO0IZKCeAJgC_k_SKGOQ
Support Us by Shopping on DTRPG (afilliate link):
https://www.drivethrurpg.com?affiliate_id=2081746
Matt on DriveThruRPG;
https://www.drivethrurpg.com/product/408811/Bridge-and-Track https://www.drivethrurpg.com/product/387584/Friend-or-Foe
Abusecartoons Weekly Cartoons:
http://www.abusecartoons.com/​​
https://www.twitch.tv/abusecartoons
https://twitter.com/abusecartoons
​​Support Us on Patreon:
https://www.patreon.com/upturnedtable
Give us a tip on our livestream:
https://streamlabs.com/upturnedtabletop/tip​
Intro song is "Chips" by KokoroNoMe
https://kokoronome.bandcamp.com/
Podcast: Play in new window | Download (Duration: 48:03 — 45.9MB) | Embed